9 There he came to a cave, where he spent the night.
The 

Lord

 Speaks to Elijah
But the Lord said to him, "What are you doing here, Elijah?"
10 Elijah replied, "I have zealously served the Lord God Almighty. But the people of Israel have broken their covenant with you, torn down your altars, and killed every one of your prophets. I am the only one left, and now they are trying to kill me, too."
11 "Go out and stand before me on the mountain," the Lord told him. And as Elijah stood there, the Lord passed by, and a mighty windstorm hit the mountain. It was such a terrible blast that the rocks were torn loose, but the Lord was not in the wind. After the wind there was an earthquake, but the Lord was not in the earthquake. 12 And after the earthquake there was a fire, but the Lord was not in the fire. And after the fire there was the sound of a gentle whisper. 13 When Elijah heard it, he wrapped his face in his cloak and went out and stood at the entrance of the cave.
And a voice said, "What are you doing here, Elijah?"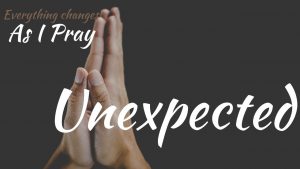 Welcome to a recording of our online service from August 29, 2021. We are hopeful that most of us will return to in-person worship next week, but we are glad we can still worship God even when we connect through technology. Today we'll hear community announcements, worship together in song, and listen to our community as we talk about prayer. Pastor Ben wraps up the "As I Pray" series by showing how God is often "Unexpected." Looking at the story of Elijah in 1 Kings 19:9-13, Ben and a few others from our congregation show us how God shows up, both expected and unexpected.